I think we'll try to write once every two months if the blog is interesting to us and readers, depending on how many interesting things happen.
Since we have already operated for almost a year, I'll explain shortly how we got to where we are now. We started with vDisain somewhere around September of 2020. I had been to America to sell books a for some summers, done sales in Estonia and led a couple of sales teams. Since the corona-virus hit again in September, I realized pretty quickly that I have to start with something that isn't affected by the situation as much. There were a lot of like-minded people at that time. One such, who we started the whole business with, was Jan. We started selling our first websites from my apartment.
Selling websites? Wasn't it supposed to be an IT company? Perhaps its appropriate to explain our business model here.
As it was mentioned before, I had been to USA to sell books and probably there is no other place to get such good sales experience. Refining sales talks and the whole theory of sales to fine details gave me the courage I have in sales and communicating. And of course the know-how to lead and coach young salespeople. These have also been the main keys to success behind vDisain's growth. However, vDisain is still an IT company, which means that sales knowledge on itself isn't enough. That's where Co-Founder Jan came in. He had already established a good network of contacts in the IT department so starting together was easy! So the initial business plan developed as follows:
find good salespeople/project managers, who sell the web solution to a potential customer, manage it and communicate with the customer;
find developers, who complete the projects;
We started off with no developers or designers, everything was out-sourced (bought in from other companies). Our big value was in communication: we knew how to deal with customers. At first it was pretty easy, since we started off with simple web solutions, the cost of which were up to 1000€.
Thus, in the ideal world, the distribution of money would be:
1000€ website = 300€ to the salesperson/project manager, 400€ to the developer and the remaining 300€ – PROFIT!
To date we have in development or already finished over 250 projects (worth over 500 000€) and we can only dream that the business can be so easy. In the real world, in this business, you also need testers, designers, an in-house development manager, quality control, SEO specialists, bookkeeping etc. Add all that up and then you realize where the difference in the prices of websites come from – doing something well and going big or just cooking something up at home in your bedroom.
All of those primary, naïve, thoughts were generated in my or Jan's apartment. About two weeks after we put our minds together and started working I got my first customers who began to pay money fairly quickly. We were thinking – how to get customers fast? – and the first marketing we thought of was active selling, like I was used to. We called companies, who didn't have websites or they were pretty run down, and we sold the idea of a new, modern and proper website. For me the most baffling thing in the start was that most companies don't feel the need to even meet up or see me face to face, but trust my voice enough to pay me, a "stranger", on the basis of an invoice sums of over 500€. In hindsight, I realized, that is how most businesses operate 😀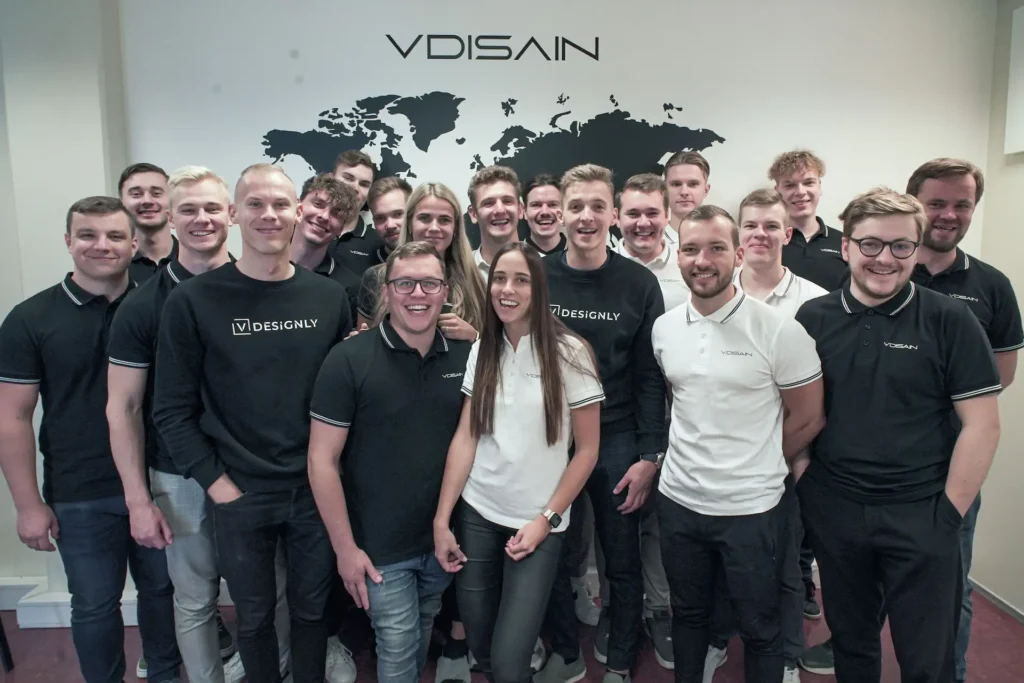 vDisain wires thousands of euros to different foreign firms every month to keep our systems running so we can manage our projects. A year ago it would've come to me as a big shock, but that's that.
In September, when we started, then we didn't register a new legal body straight away. We wanted to see how things go. After two months we already had 5 salespeople. Among those was our third shareholder Sander, who put a start to our email marketing, which has probably brought us a third of our customers. Before we involved investors, me, Jan and Sander were the sole shareholders. Right now we are working out an option policy so that everyone active in the company could be a shareholder. So everybody who wants to be a part of a 100 million euro business, call away! 😀 But I digress.
So after two months we had 5 salespeople, we were selling about 10 clients a month and our bank account was slowly accumulating money. By that time we had made our first bigger investment – we rented an office for ~1000€/month. At that time it was a pretty big chunk of our expenses – next one would be a coffee machine 😀
When February came around we quickly came to the realization that our revenue was going to be a lot more than 40 000€ (when you exceed that limit you must become subject to VAT), so we needed to establish a new firm quickly and rewrite the shares (before everything was a little bit 'in the air'). So we involved investors, who got 10% of the company in exchange for some peace of mind capital, so we could pay for our coffee machine. Actually, at that point we alread had our first in-house developers on payroll, we got a bigger office and after that things took off in a bigger pace.
To date our record month has been 130 000€ worth of sales and 40 customers in one month. Bigger clients include Bercman Technology, Skarabeus, Ait-Nord, Hiieko etc. We have an amazing beast team. We have our own designers, 10 in-house developers and at least 14 sales engineers. That means altogether there's more than 24 of us and some projects we still out-source. We have sold over 750 000€ worth of projects. UNREAL!!
At the time of writing we are already in Croatia, where we're staying for two weeks before flying to USA. To people who don't know: right now during corona times we can't fly straight to USA from Europe, without any special permits, so you have to stay outside of the Schengen zone for 14 days. We have already sat here for half of that time and now we are actively preparing for USA. A little picture to illustrate. But more about that in the next post!
That covers a little bit about our past, so I'll end it here. We figured we would mostly discuss and write about how we are expanding to the US market, what we need for it, what is it costing us and so on. In the next blog post there's gonna be info on how expanding to the new market is going and how to register a company in the US. We all already know before-hand that compared to Estonia, it's quite a headache! I think it'll be a fairly exciting read. We'll also write about what are our main growth points, what we want to improve on etc. If these ideas and thoughts seem interesting, let us know! If there's any better ideas what we should write about and what to discuss – let us know as well! All feedback is extremely welcome.